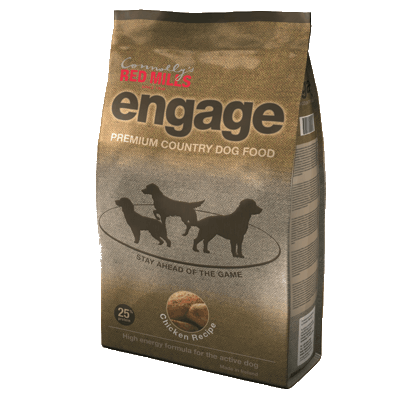 Available Sizes:
15Kg, 3Kg
Engage Chicken
Featuring 30% meat content, Engage Chicken Recipe is a great natural food for your canine jogging companion. Rich in oils, it fosters sustained energy and a glossy coat. We use only the best natural ingredients in this wholesome, fully balanced dog food.
Our Engage Chicken recipe is made from the finest quality chicken protein, providing a highly digestible diet, completely balanced for all nutritional needs.
With its increased oil content, this diet will provide your dogs with all the energy they need to keep them fit and active throughout the day. This fully balanced food offers the very best nutrition for sustained health and vitality.
The Engage range of dog food contains only the finest ingredients for the benefit of your dogs. Whether it's walking, flushing, pointing or setting, Engage will give your dogs just what they need. For fast recovery, sustained energy and optimum endurance, there is a food in the Engage range to suit your dog's activity. 
Composition
Maize, Dehydrated Poultry Meat, Dehulled Oats, Poultry Fat, Whole Linseed, Beet Pulp, Fishmeal, Chicken Gravy, Calcium Carbonate, Sodium Chloride, Yeast Extract, Chicory Extract
Analytical Constituents
| | |
| --- | --- |
| Protein | 25.0% |
| Oil | 13.0% |
| Fibre | 2.3% |
| Ash | 7.0% |
Your dog is unique and his feeding requirements will vary with his age, activity and environment. That's why we suggest starting with the guides below, and then monitoring his weight and adjusting portions as needed.
All recommended feeding amounts are in grams per day.
Ideally feed your adult dog in two feeds per day rather than just one, especially for large breeds. However, be vigilant with the amount of food you give them.
Feed puppies from 6 weeks onwards, 3 times per day until the age of 6 months, then reduce to twice per day.
We recommend you try to feed your dog at the same time each day.
Please ensure a supply of fresh drinking water at all times
| | |
| --- | --- |
| Less Active | Less than 30 mins exercise per day |
| Active | 30 – 60 mins exercise per day |
| Highly Active | Over 60 mins exercise per day |
Breed type
Body Weight
Less Active
Active
Highy Active
Small
4kg
102g
120g
138g
6kg
119g
140g
161g
8kg
145g
170g
196g
Medium
10kg
179g
210g
242g
12kg
196g
230g
265g
14kg
213g
250g
288g
16kg
238g
280g
322g
18kg
264g
310g
357g
20kg
289g
340g
391g
22kg
315g
370g
426g
24kg
340g
400g
460g
Large
26kg
366g
430g
495g
28kg
383g
450g
518g
30kg
404g
475g
546g
35kg
417g
490g
564g
40kg
442g
520g
598g
45kg
480g
565g
650g
Giant
50kg
506g
595g
684g
60kg
565g
665g
765g
70kg
604g
710g
817g
80kg
646g
760g
874g